FORD will close its manufacturing operations in Australia and 1200 workers will lose their jobs in October 2016, despite receiving $1.1 billion in taxpayer funding over the past decade.
Ford Australia president and CEO Bob Graziano told the media that the company would shut the Geelong engine factory, costing 510 jobs, and the Broadmeadows car assembly line, shedding another 650 positions.
Sacked workers are expected to be offered a $39 million rescue package from the Federal and Victorian governments to help them find a new job.
It is expected the Gillard Government will put contribute $30 million with only $9 million coming from the Victorian Government. Ford will also be asked to contribute.
But there are concerns it will be nowhere near enough to help res-skill the workers at Broadmeadows and Geelong who have been told they will no longer have a job when Ford ceases production in October 2016.
It is also unclear whether there will be any assistance for the thousands of other workers who may also lose their job in industries that rely on Ford such as component makers.
The company says it will remain in Australia selling imported cars, just as Mitsubishi did when it shut its Adelaide car factory in 2008.
The announcement will leave Toyota and Holden as the two remaining car manufacturers in Australia.
"We don't take these decisions lightly. We looked for every opportunity but … manufacturing in Australia is not viable for Ford in the long term," he said, adding that manufacturing costs in Australia are double what they are in Europe and three times higher than in Asia.
"We came to this conclusion only after exhausting all other alternatives. We did not leave any stone unturned. The business case did not add up."
Mr Graziano said today's announcement would not impact the recent sponsorship announcement for the Geelong Football Club.
The three-year warning is unusually long given that car makers typically keep such announcements secret so as to not adversely affect sales in the interim. Mitsubishi gave just seven weeks notice before it shut its Adelaide factory in 2008.
"We are making this commitment now … to allow for an orderly transition for our employees, the supply base and the broader automotive industry," Mr Graziano said.
Ford says updated versions of the Falcon sedan and Territory SUV scheduled to arrive next year will go ahead as planned.
The car maker said it intends to retain its design and engineering centre in Broadmeadows, which has about 1100 employees working on global Ford cars.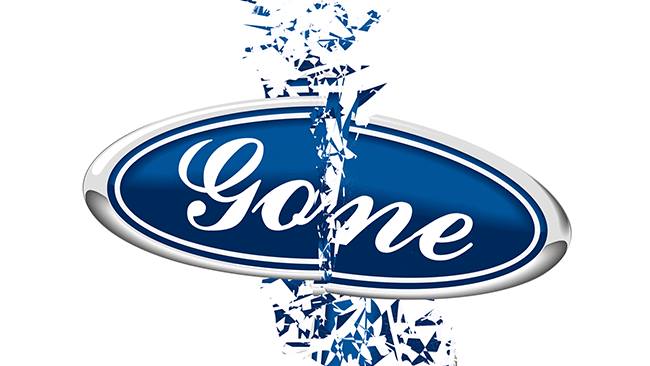 JamieWhincup#1

OZFM Legend & Hall of Famer




Posts

: 3040


Points

: 3213


Age

: 28


Join date

: 2010-07-23


Location

: Southern Highlands NSW



HOLDEN gets twice as much government funding as Australia's two other car manufacturers - even though it does not build as many cars as market leader Toyota.
Figures released by Holden show it received $2.17 billion in state and federal government assistance over the past 12 years, compared to $1.1 billion for Ford and $1.2 billion for Toyota, News Limited can reveal.
This equates to Holden receiving an average of $180 million a year compared to Toyota taking $95.8 million a year and Ford getting $87.8 million a year.
Holden's taxpayer support is comparatively high given Toyota has been the biggest producer and exporter of vehicles over the past decade - and Holden last year posted its lowest sales in 19 years.
But Ford's government funding is also disproportionately high given that it has hit record low production levels in the past three years.
Using the funding average and last year's production numbers as a guide, Holden received $2117 per car built in 2012 compared to $944 for every locally made Toyota and $2372 per locally-made Ford.
Defending the government generosity, Holden says it invested $32.7 billion and paid $1.4 billion in income tax for its workforce over the same 12-year period it received $2.17 billion in taxpayer assistance.
Holden boss Mike Devereux says without this level of government support "it is absolutely impossible to make cars in this country" and the subsidies were "in line with or lower than" those in other countries.
The comparative figures among Australia's three car manufacturers have emerged as senior Ford executives in North America last week again refused to commit to producing cars locally beyond 2016.
Ford Australia is yet to apply for government funding beyond its current 2016 deadline, while Holden has signed on until 2022 and Toyota Australia is negotiating on the next generation Camry that will run to 2024.
The cost-per-locally-made-car data comes as confidential industry figures show Holden was bumped outside the top-three sellers for the second month in a row in March.
For the first time ever, Korean car maker Hyundai ranked third in the new-car sales race - behind Toyota and Mazda and ahead of Nissan, which outsold Holden for the second month in a row.
"The strength of the Australian dollar has had a huge impact on the market for new cars," Holden spokesman Matt Hobbs told News Limited.
"We are at near record levels with all major currencies and the quick depreciation of the Yen to the Aussie dollar since October has just increased the pressure (on the local market)."
"This intervention by the Bank of Japan is the equivalent of Australian Government devaluing the AUD from parity with USD to $0.75 to support its manufacturing industry."
Government funding over the past 12 years (2001 to 2012):
Holden: $2.17 billion
Toyota: $1.2 billion
Ford: $1.1 billion
Annual average over the past 12 years (2001 to 2012):
Holden: $180 million
Toyota: $95.8 million
Ford: $87.8 million
Cars made locally in 2012:
Holden: 85,000
Toyota: 101,500
Ford: 37,000
The other final blow for Ford is not landing an export deal with the US.
Holden saved there own arse with the Camaro chassis deal + VF Imapladore. Whilst Ford's similar deal with the new Mustang fell through.
Everyone is entitled to be stupid, but some abuse the privilege.

NoRecoil

OZFM Series Organiser




Posts

: 4452


Points

: 4933


Age

: 32


Join date

: 2010-01-13


Location

: Tasmania



Welcome to Forza 5 - Where it is 'ok' to come 2nd or 3rd!

Dazza4610

.




Posts

: 8264


Points

: 9655


Join date

: 2010-02-01


Location

: QLD



All the had to do was take the Falcon to the US.

Envy The Best

Multiple World Champ




Posts

: 1506


Points

: 1585


Age

: 26


Join date

: 2010-01-17


Location

: Canberra



Why are ford workers different to everyone else that loses their job? No one gave me anything when I found myself out of work with only 3 weeks notice.

crimson eagle73

2 x World Champ




Posts

: 1161


Points

: 1442


Age

: 45


Join date

: 2009-12-26


Location

: Nowra



Words from Kristian Appelt, one of Australia's most well known and respected importers.
"Ok so Ford Australia is closing its doors in 2016.
You might expect that, as an importer of used vehicles, I would be jumping with joy. The reality is that importing rules will not change until all new car manufacturing ceases in Australia, and Toyota would rather operate here at a loss than give up its stranglehold, both on politicians and on the Australian market. So let's put all that aside.
Like many others, I'm disappointed about Ford's demise. Firstly, because I grew up on a steady diet of Falcons and Kingswoods (showing my age!) and it will be a shame to see the end of a traditional 50 year rivalry. But mostly, I'm disappointed because Ford itself is the reason for the party ending.
Like the GM/Holden relationship, Ford USA generally regards its Australian subsidiary as an oddity, capable of providing 'mid-size' cars that cater for Australia's unique needs. The problem is, Ford Australia has been creating brilliant cars, and nobody in Dearborn noticed. Go on any Ford forum in the US and you'll find endless posts begging for Ford to sell Falcons over there. Where else in the world can you buy a low-cost (relatively speaking) large RWD sedan with a choice of an easily tuneable 4.0 litre straight six with a GT40 bolted on the side of it, or a supercharged 5.0 litre V8 punching out more than 400hp from the factory? By not providing Ford Oz with the funds or opportunities to build the Falcon in LHD for export market, Ford US effectively signed the Falcon's death warrant many years ago.
But there's more to it. As many of you know, we bought ourselves a Ford Territory back in 2004, which is now 8 years old. I'm happy to admit that the engineering department excelled with this car. For a large 2-tonne SUV, it actually handles a lot better than most premium SUVs, which is a big call. It was (and still is) fairly thirsty around town, but we could live with it, as we were very happy with its unique mix of capabilities.
As the years went on, the love died, to a point where we now can't wait to get rid of it. The ball joints have been replaced 4 times in the 130,000km it has now travelled, the engine ran rough (re-programme of the computer $500+, didn't fix it) and still seems to ping quite regularly, the water pump needed replacing at 90,000km and now we've been warned that the head is also leaking (and the motor is using reasonable amounts of oil), the latch for the bonnet broke clean off, the passenger window can't be wound down as the window slips off the guide and won't go back up (also stopping the door from shutting), the window rubbers have sagged and needed glue to stay in place, the rear hatch rubbed against the tail gate, removing paint from day one, the hinges holding the tail gate in place broke clean through, snapping the plastic roof shrouds, leaving me holding the (very heavy!) tail gate in place while we waited for assistance to avoid it smashing onto the ground.
Now it looks as though the hinges themselves are actually breaking the metal away from the body, meaning a trip to the crash repairer to weld everything back in place. Paint is fading in a variety of places, and a cursory glance under the car suggests there's some surface rust appearing, despite living nowhere near the ocean.
Recently, the ignition stopped springing back into position after starting the car - the fix required replacing half the steering column, cost $1350 in parts alone and took nearly a full day of labour to complete. So we have a new key for the ignition that is now separate to the key we need to open the doors.
I'm sure that there are other issues, but I've mostly tried to erase them from my memory to avoid further pain and suffering. The point is that the Territory, like all Aussie-built Fords, is a brilliantly-designed car let down by truly woeful build quality. When we first bought it, we thought that we'd only replace it with another Territory, but now, we'd wouldn't touch another one with a barge pole. Take our experience and translate it across thousands of private buyers, and it's no wonder their sales have dived.
I laugh at people suggesting Ford's demise is somehow the fault of the federal government - we give new car manufacturers less subsidies than any other manufacturing nation on the planet, and I would bet my left one those same critics would be the ones complaining that any extra financial support from the Commonwealth is a waste of money.
And as for blaming the public for not buying Australian-made cars, our Japanese-built small car of the same vintage as the Territory has required no major work aside from servicing in the last 3 years we've owned it. Joe Public would happily buy Fords if they were better built. Yes it's hard for Australian manufacturers to compete when factories in Thailand can build cars at 25% of the cost, but when they are also building cars to a higher build quality than what we can for that 25%, it's little wonder Ford Oz was dead in the water. It will be interesting to see what lessons Holden and Toyota learn from it all.
Rant over

"

Waffelz

World Champion




Posts

: 893


Points

: 956


Age

: 29


Join date

: 2011-02-15


Location

: SALZBRY, SA



Wow. Relax guys. Ford has this ten year cycle thing going on; end of the falcon, end of the v8, end of aussie production, yadda yadda.

It won't happen.

sempeR

2 x World Champ




Posts

: 1418


Points

: 1454


Age

: 30


Join date

: 2009-09-09


Location

: Wallan, Vic



---
Permissions in this forum:
You
cannot
reply to topics in this forum