Page 2 of 2 •
1, 2
Uh, if there was anything solid about MS doing a VR, it would be all over r/games. Sony's VR has been hinted at for ages now, just that GDC was the confirmation. Not saying they can't do it, just that theres not even a rumour. Currently the rumour for MS is Augmented Reality, not VR. Also, heres the prototype
Regardless, VR is what i've considered for a while now to be the "next big thing". Sony has to be really really REALLY careful with their implementation, as it could be really easy to screw up if they release it to market in a state that consumers pass off as a gimmick. Believe it or not Oculus has had to work hard to get the concept of VR to a point where it has popular support, and where Valve is intimately involved with the development process on the software side. It could be all too easy to just slap in VR functionality like everyone did with 3D gaming as a gimmick and damage the concept beyond repair.
They also have to worry about compatibility. These headsets aren't going to be cheap, and they're going to directly compete with each other as they're the only two sets in existence. Rift already has a vast amount of compatible titles on steam. I sincerely doubt people are going to buy a peripheral that has zero PC compatibility for one or two games.
The real problem is that Valve has done a lot of market research on VR, and has come to several conclusions;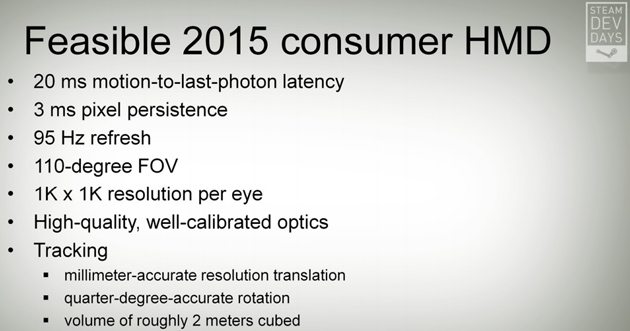 The PS4 is good....but i don't think it can hit a fps of 95 consistently at 1080p.

Envy The Best

Multiple World Champ




Posts

: 1506


Join date

: 2010-01-17



I've been keeping a eye out, ouch! With the Oculus Rift, currently taking pre-orders for the new dev kit2, shipped july. sorry lazy, but google it for specs, no where near the consumer product but a far cry from the original dev kit one. $350 us, + shipping and only pc compatable ( dev kit) final product will be all platforms.

RU

RU four 86

OZFM Legend & Hall of Famer




Posts

: 2407


Join date

: 2009-07-29




Sleuth 101

Multiple World Champ




Posts

: 1529


Points

: 1620


Join date

: 2009-12-25


Location

: Australia



Safe to say the "delay" didn't really do anything for the game at all from a technical standpoint.

Such a shame.

Envy The Best

Multiple World Champ




Posts

: 1506


Points

: 1585


Age

: 26


Join date

: 2010-01-17


Location

: Canberra



Page 2 of 2 •
1, 2
---
Permissions in this forum:
You
cannot
reply to topics in this forum