Here's another wacky event suggestion for an event I had loosely based on some event list B class thing I drove and thought could be fun...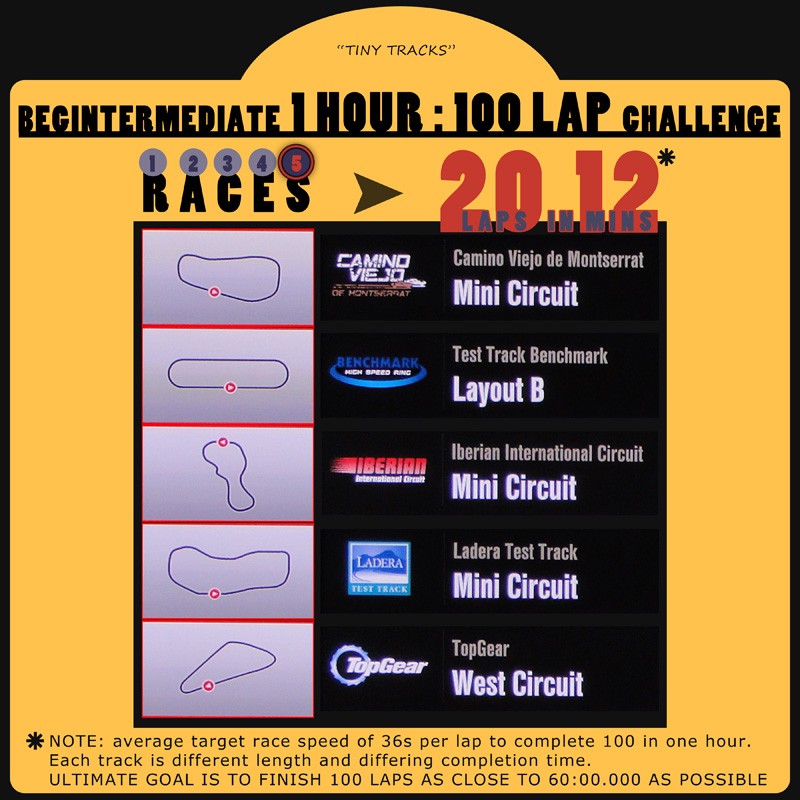 The main idea of this is be an accessible challenge primarily for beginner and intermediate competitors, but all are welcome to join in.
The key points:
- Probably B class, or could be stock A class cars or some other restriction on vehicles. Thinking something not too easy or difficult to drive?
- Breaking down a 1 hour challenge into 5 chunks will make it a bit easier than a single enduro but there is still a reasonable substantial goal to aim at?
- using super small tracks to get lots of laps into an hour = practise maintaining consistent lap times and concentration?
- target finish time will force close racing? practise racing cleanly ? Faster drivers can show off by choosing the slowest car to get close to the target time.
- Even can also be run as individual hot-lap / solo races and just post finish screens in thread to compare times?

sillybilly77

Advanced Driver




Posts

: 152


Points

: 176


Join date

: 2011-08-11


Location

: Australia



I'm in any regs on what cars in B500 cause otherwise everyone will just go the lotus 05
I mean I wont but just saying
Key point idea ( might not be a good one

* Ultimate goals is to complete 100 laps as close to 60:00.000 as possible.
Some races will be quicker than 12min others won't. The combined finishing time target is 1 hour.
60:03.000 would beat 56:00.000 or 59:56.900... Smallest gap to 60:00.000 wins. It's about consistency?
Perhaps not clear in text explanation. No reason people can't choose the lotus 05 but there should be plenty of cars capable of getting the benchmark time...

sillybilly77

Advanced Driver




Posts

: 152


Points

: 176


Join date

: 2011-08-11


Location

: Australia



You forgot the date this event will be run.... Or if it is just an idea, do you want me to move this thread to the ideas area?
Welcome to Forza 5 - Where it is 'ok' to come 2nd or 3rd!

Dazza4610

.




Posts

: 8264


Points

: 9655


Join date

: 2010-02-01


Location

: QLD



Ideas area I guess - unless there's heaps of interest and someone is keen to run it.

sillybilly77

Advanced Driver




Posts

: 152


Points

: 176


Join date

: 2011-08-11


Location

: Australia



---
Permissions in this forum:
You
cannot
reply to topics in this forum